This post has been compensated by Collective Bias, Inc. and AcneFree. All opinions are mine alone. #AcneFreeSummer #AcneFreeLife #CollectiveBias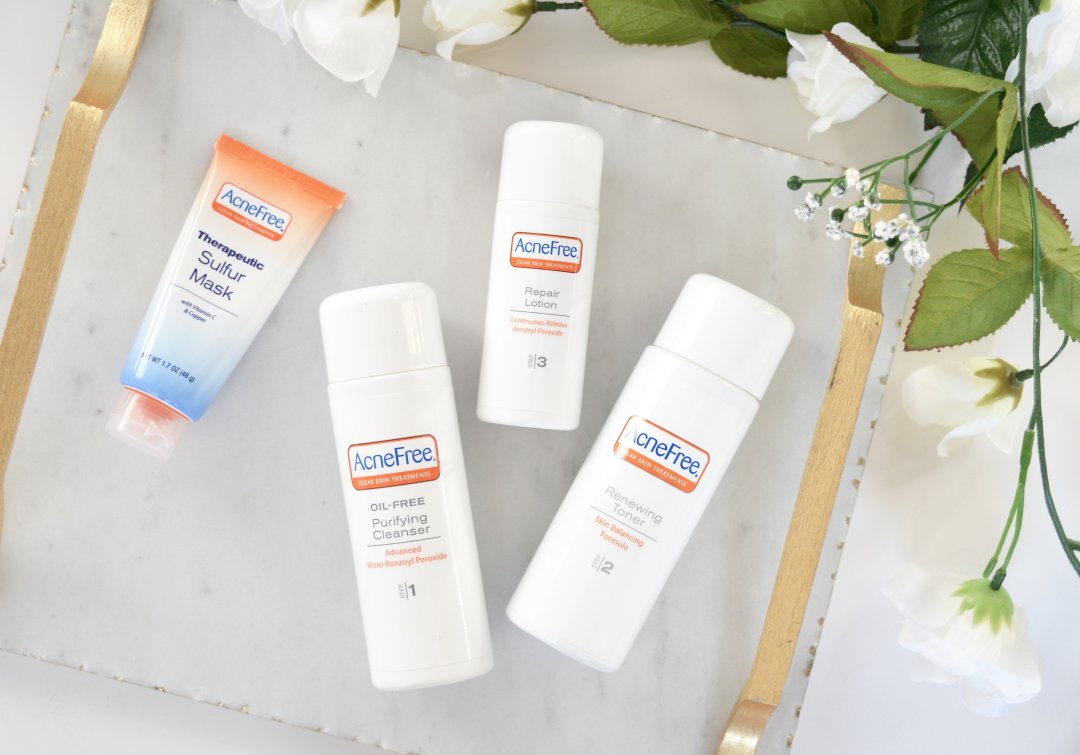 Hover over the photo to shop the items!
Time to get back to the basics! Acne is no new thing, and skincare companies everywhere have been working for years and years to find a way to tackle this picky skin condition. Innovation and change is always happening, but a few key ingredients have lasted through all the trial and error, and these tried and true ingredients are still used today for one good reason: they work!
Benzoyl Peroxide, glycolic acid, and salicylic acid: your skin care routine needs it!
Recently, I found myself trying SO many different brands, products and ingredients in my skin care routine, and none of it was working. My skin simply was not happy. When I scaled it back and started using simple tried and true ingredients, my skin cleared up so much. I have been using the AcneFree skin care line to tackle my blemishes and I have absolutely been loving it! The simplicity of the routine is amazing and the products truly do their job. So remind me why I was testing out expensive serums when I could grab a kit full of all my skincare needs for less than $30? Yeah, I'm stumped too.
With new beginnings and a new season on the rise (read my life update here), it was the perfect time to switch up my skincare routine, and I am so glad I did. Since using AcneFree, my skin has significantly cleared up, making my morning makeup routine so much more enjoyable and MUCH less stressful. A clean canvas is the perfect start to your beauty routine, and my confidence is much higher.
Time to take your through my AcneFree skincare routine! I have been using my AcneFree 24 Hour Clearing System in the morning and at night, which I picked up at Walgreens. You can also order form Amazon or pick up at Walmart. This system really helps tackle your breakouts because it is powered with micro-benzoyl peroxide which is designed to work quickly and get deep into your pores to help clear your skin.
AcneFree Oil-Free Purifying Cleanser
This cleanser does the job well and doesn't leave my skin irritated at all. It includes the key ingredient of benzoyl peroxide that kills bacteria in your skin. It also lathers up very well and has no fragrance (thank goodness, fragrances can really irritate sensitive skin).
2. AcneFree Renewing Toner
This skin-balancing toner is packed with vitamins, witch hazel, chamomile and aloe to help control oil and refine your pores. My skin feels so soft and refreshed after using it.
3. AcneFree Repair Lotion
The final step in your daily routine is to moisturize. This lotion continuously releases benzoyl peroxide to continue to fight off any bacteria in your skin that might cause a break-out.
4. AcneFree Sulfur Mask
Twice a week, I use this sulfur mask, and let me tell you, it does wonders! Every time I use it, my skin is THANKING me! It truly is the final kick to helping clear your breakouts. Sulfur is a natural acne-fighting ingredient and this mask is also packed with vitamin C, copper, and zinc to really get the job done. It helps to soothe any current breakouts and prevent future ones.
I have loved using these products and they have truly made a difference in encouraging me to simplify my skincare routine and stick with ingredients that are tried and true. If you're looking to go a step further and tackle individual pimples, use a spot treatment with salicylic acid or benzoyl peroxide. This ultimate duo works so well to renew skill cells and kill bacteria.
Finally, if you're looking to change up your skin care routine as fall approaches, you head back to school, or you are just looking to try something new, consider entering in AcneFree's sweepstakes. AcneFree is launching a 4-week sweepstakes starting TODAY! There will be  3 Grand Prize Winners who will win $1,000 spending money and AcneFree Supplies for a year. Additionally, AcneFree will give away 10 AcneFree® 24 Hour Acne Clearing Systems every week for 4 weeks. No Purchase Necessary. To enter, simply enter your name and email address at http://cbi.as/9rasp.  Check out other peoples' success with using the AcneFree skincare line here: http://cbi.as/8336w. For more information on the sweepstake's rules, log on to http://cbi.as/9rasp.
Thanks for reading! XO